Affordable energy made clean
Solvang aims to be an industry leading provider of LPG and petrochemical tonnage to our clients in the safest, cleanest and most cost-effective manner. We make an inexpensive and simple energy source available for cooking or other purposes. 
As an active part of Smart Maritime, Norwegian Centre for improved energy efficiency and reduced harmful emissions, Solvang is applying research to bring down harmful emissions from our operation. As part of our goal, we work to further minimise our climate impact by making sustainable methods and technology available to other ship owners through public research.
Solvang´s ECO innovation started with monitoring vessels´ performance and emission in the entire fleet, carrying LPG across the world´s oceans, propelled by HFO. In 2013, Clipper Quito was awarded our first ECO-LPG carrier status. Today, Solvang has 12 vessels in this category, fuelled by affordable energy made clean through significant emission reductions. Our development procedures encompass cycles of monitoring, measurement and optimisation of engines, exhaust cleaning systems, hulls, propellers, thrusters and more systems.
The results so far show reduction in fuel consumption and CO2 emissions by 50 percent, NOx emissions by 65 percent, and SOx by nearly 100 percent. Our statement is that engine technology/maintenance and operation are more important than the type of fuel when looking at the harmful emissions to air.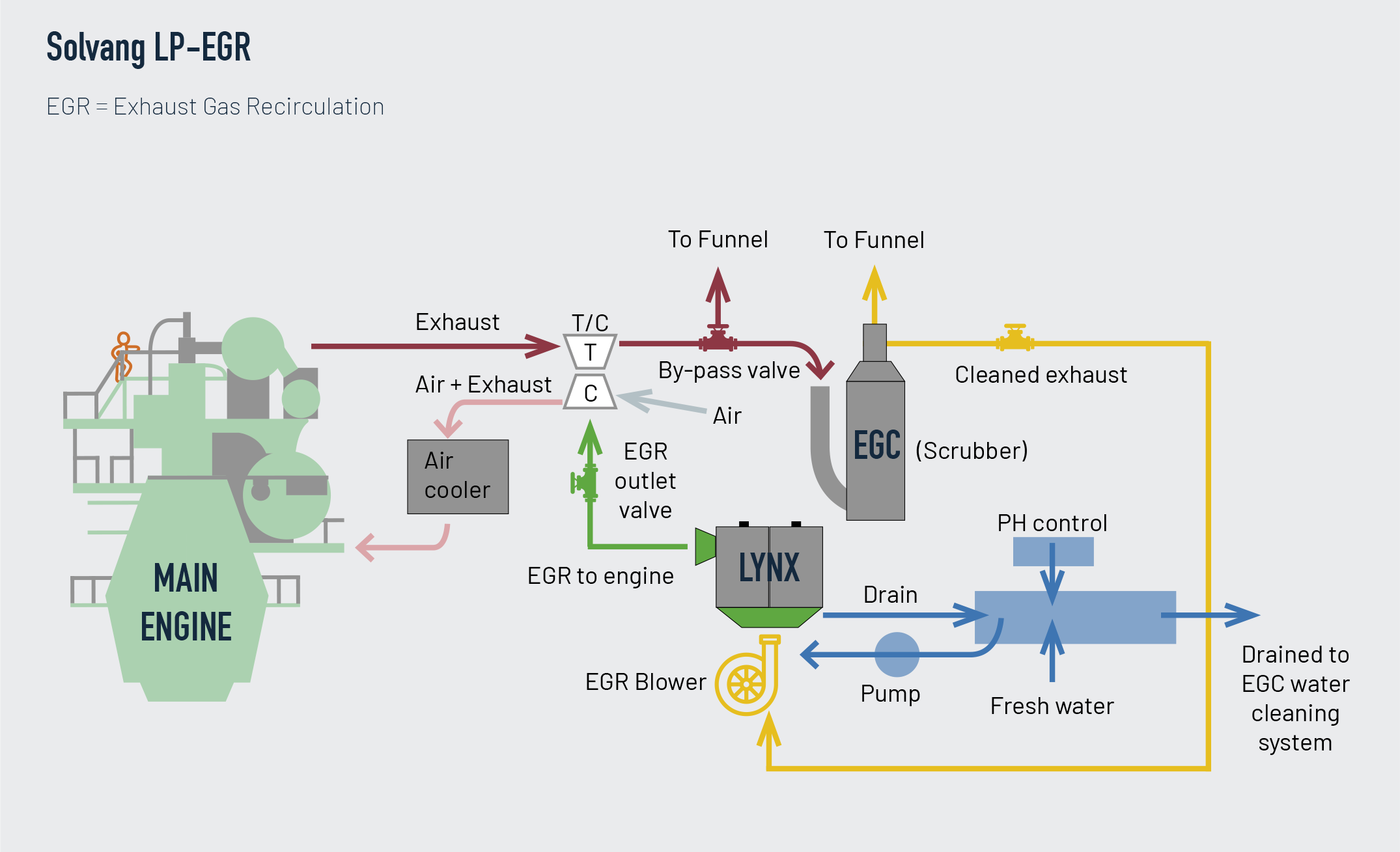 Model of scrubber setup on Clipper EOS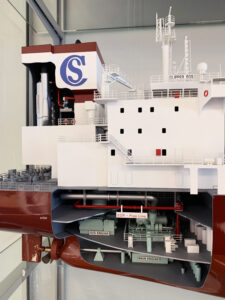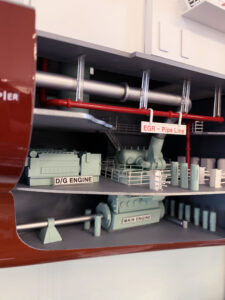 Comparison of HFO and LNG fuel NOx Tier III operation
Our 2-stroke slow speed heavy fuel oil engines + scrubber + Solvang's low pressure EGR compared to "Lean burn" dual fuel 4-stroke Medium Speed Engines (LNG)  typical offshore supply vessel etc.
This documents our statement that engine technology/maintenance and operation are more important than the type of fuel when looking at the harmful emissions to air.
From well to wake
Albeit designing a sustainable propulsion system for deep  sea shipping, the industry can´t get around fossil energy sources. Renewables like batteries or bio-fuels are still not economically viable for carrying large volumes over long distances. This is clearly demonstrable by the fact that 80 percent of the world´s ocean freight currently runs on HFO/VLSFO.
In this perspective, Solvang aims to minimise operational and indirect emissions and to avoid any spills to the environment. We follow a well-to-wake strategy, which means we avoid trading in HFO for a distillate bunker fuel when possible. Such a transfer would lead SOx and other substances in HFO to be emitted into the atmosphere from other sectors, like coal and oil power plants burning the residuals for power generation. Instead, Solvang provides emission reductions throughout the cycle of HFO, leaving nothing out of the climate account.
High quality HFO has excellent technical properties and the highest heating value per cubic of all fuels. This means Solvang´s carriers achieve the highest cargo capacity of the bunker fuel. Reduced consumption normally means lower harmful emissions. We also achieve conditions to establish optimal maintenance intervals and operational procedures.
SDG12 measures against direct emissions:
ISO 14001 certification for securing continuous improvement
Garbage management plan
Environmental evaluation of new products 
Environmentally friendly technology 
Optimal operation to reduce consumption 
Maintenance according to the vessel's maintenance systems (PMS) 
Collaboration with suppliers and customers to improve environmental performance
SDG12 measures against indirect emissions: 
Involvement and accountability for all employees onboard and ashore to minimise emissions
Optimised transactions related to travels, procurement, shipments and maintenance
What is well-to-wake?
Solvang´s approach to GHG covers all emissions from fuel/energy consumption.
Well-to-tank (WTT) includes the whole upstream chain from production, processing and transport to the refinery, refining, optionally transport to the ship, and bunkering operations.
The tank-to-wake part includes the GHG emissions from combustion of the fuels or alternatively the emissions from any other chemical or electrical process onboard to propulsion power or any other power used onboard.
The energy loss depends on oil fields, type of oil and transportation.
Climate action
Solvang´s strategy is to stay ahead of national and IMO regulations by applying ongoing research to our vessels´ operation. Vessels performance monitoring is a critical tool when assessing the efficiency of Solvang´s innovations during commercial operation. In 2008, Solvang initiated the in-house program for vessel performance monitoring. First, we joined WG5, a partnership between five leading Norwegian shipping companies and The Norwegain Ship Owners Association. We also recieved support from the Norwegian Government. The partnership has collaborated extensively to achieve more environmentally friendly operations at sea. Later, we continued our engagement by entering the Center for Research-based Innovation Smart Maritime. Solvang supports the vision "Greener maritime transport", which aims to enable the Norwegian maritime cluster to be world-leading in environmentally friendly shipping by 2025. This position should be achieved through innovative use, improvement and combination of technologies measured not only by cost, energy and emission figures, but also in terms of increased revenues for the maritime industry. 
Among the statistical findings which stand out as examples of the possibilities for the maritime industry, we would like to emphasise this one:
The relationship between CO2, CO, THC (unburnt fuel) and greenhouse gases from NOx Tier III operation shows that emissions from 2-stroke HFO operation with scrubber combined with low-pressure EGR, is lower than emissions from dual fuel lean burn 4-stroke LNG operation.
Read more about Smart Maritime´s work package "Power systems and fuel" on smartmaritime.no/work-packages/
Energy Efficiency Operational Indicator 2009 - 2020
EEOI
Energy Efficiency Operational Indicator. CO2 emissions per ton cargo.