With funding from The Norwegian State, through Enova, Solvang ASA will carry out a full-scale pilot of CO2 capture on board the gas tanker Clipper Eris. The CCS project is a collaboration effort between Solvang, scrubber manufacturer Wärtsilä and the research institute Sintef. Since 2021, the installation has processed data on various engine loads onshore at Wärtsilä's facilities in Moss, Norway. The output has been uplifting. The project will use amine cleaning technology to capture 70 percent of the CO2 in the exhaust gas from the main engine, and demonstrate the entire value chain for handling CO2 including liquefaction and storage on board the ship. 
ECO LPG programme
Since 2008, Solvang has collected extensive data from all operations and vessels, sharing knowledge with a range of scientific institutions and professionals. In 2011, we initiated a holistic programme to make our vessels more energy efficient and to remove harmful emissions from the exhaust. In 2015, the programme was expanded with exhaust gas recirculation modules, scrubbers and several mechanical improvements. Even later, our transmission, propeller and rudder - as well as hull surface - have undergone systematic improvements in connection with planned dockings.
CCS ready for the seas
Onboard ethylene carrier Clipper Eris, the developed CCS system will serve a 7 MW main engine, where it will capture CO2 before it passes through the exhaust outlets. Inside the smokestack, the complex carbon separation process takes place, resulting in CO2 which is refrigerated until liquefaction and then stored on-deck. The CCS setup will operate alongside existing scrubber and exhaust gas cleaning systems onboard the vessel for two years, providing a steady stream of live data.
If not reused, CO2 storage will be the main solution. Other appliances for CO2 from CCS are for carbonated drinks, or in the food processing industry.
Carbon capture combined with existing cleaning technology is a significant shortcut to the decarbonisation of the world's deep-sea fleet, and stands out as one of the more promising solutions for the ships of the future. With support from Enova, it is possible to start the pilot project on board the ship and test both technology and value chain.
Edvin Endresen
CEO of Solvang ASA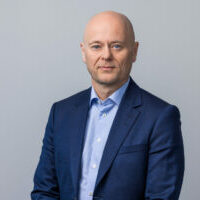 Sustainable tech across the fleet
Solvang's mission with the CCS pilot is to install sustainable technology across the fleet and contribute to reduce global shipping's environmental footprint. This is according to IMOs GHG-reduction framework and other international initiatives. 
The project goes alongside a series of substantial measures in the fields of optimizing machine operations, transmission technology, propeller and rudder improvements, hull optimization, as well as advanced open-loop scrubber technology. 
A smart energy system
Solvang has adopted a climate mitigation strategy applying optimization of hull, rudders and propellers providing reduced fuel consumption per mile sailed, in combination with hyper efficient exhaust cleaning systems and carbon capture on-deck. In this way we stay reconciled to the fact that global shipping's energy source is Fuel oil. Over 90% of the global oceanic goods transportation runs on fuel oil, making up an enormous potential for climate mitigation through operational measures, exhaust gas cleaning, and carbon sequestration. A residual propellant, free from emissions during processing - or residual fuels mixed with refined products. For now, fuel oil upholds the world's transport system and global economic order, giving the UN, IMO and other mitigators a chance to design a smart energy system in which to deploy our costly renewables.
Peer-reviewed publishing
In the recent peer-reviewed article Wise use of renewable energy in transport. In the article, scientists from Sintef Ocean, Kedge Business School France, Norwegian School of Economics and Solvang, argue that renewable energy sources are too scarce in availability to be deployed indiscriminately for large transport needs like global shipping. The researchers conclude that deep sea shipping must use alternatives to limit emissions, such as CCS, exhaust cleaning and more efficient transportation.
Total emissions control system